Slade is a seasoned professional vocalist, guitarist, pianist, composer and vocal coach in multiple musical genres including: rock, pop, jazz, cabaret, folk and musical theatre.  Vivian Slade has received airplay on over 70 radio stations (eastern US) and charted to CMJ on eight of those stations. Touring has taken her from Miami to Vermont to Austin.  Vivian's recorded catalog includes: Vivian Slade (LP), Vivian Slade Live (LP), After (EP), The Pacha Mamas (LP), Breathe in Life (LP) www.breathworks.net, and most recently, The Dragon King, a children's musical/illustrated ebook/audio book thedragonking.com. Vivian has performed extensively with Nashville's acclaimed children's theatre company, Olde Worlde Theatre and with the three women performance group, The Pacha Mamas.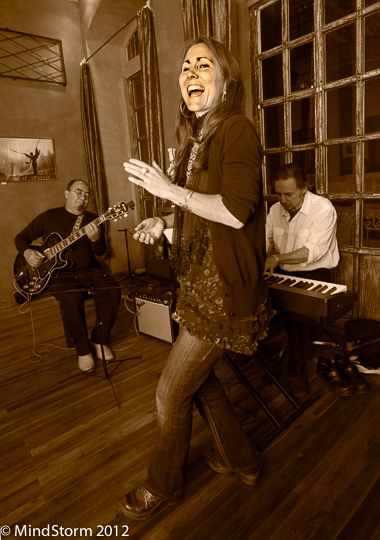 photo curtesy of Burt Johnson www.mindstormphoto.com
Vivian's eclectic formal education includes: The University of Siena, Siena, Italy (vocal performance), Etruscan Studies at Trinity University in Vescovado di Murlo, Italy, (archaeology), Mannes College of Music, New York, NY, (vocal performance), Belmont University, Nashville, TN, (vocal performance and composition), BFA in Art History, Cum Laude, Southern Methodist University, Dallas, TX. 1989.
Vivian is currently vacationing for six months in Cuenca, Ecuador with her husband and two daughters; singing jazz and promoting her newest work, The Dragon King.
What music critics say about Vivian Slade - "Thought provoking, provocative and sophisticated" - Independent Songwriter.
"Vivian's performance is one I will not soon forget." - MTV Online.